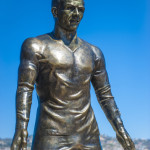 Cristiano Ronaldo is one of the most celebrated footballers of our times. Since Eusebio and Figo, no footballer has delivered as much for Portugal as this 31-year-old genius. While his exploits for his country are remarkable, it cannot still be compared to what he has done for his club, Real Madrid.

Ronaldo scores record number of goals for Real Madrid
Newsflash- And now he has become the highest goal scorer for the club, beating Raul (Spain).
What makes this landmark even more special is that he has taken 431 games less than Raul to create the record. While Raul took 741 games to score 323 goals, Ronaldo has netted his 324th goal in only his 310th appearance for Real Madrid. This means that he has scored at a phenomenal average of more-than-a-goal per match.
A minor discrepancy in statistic
While no one is denying his absolute class and the whole world is cheering this great footballer, a small statistical discrepancy has created a bit of confusion. It so happens that in a match played in the year 2010, Ronaldo scored from a free-kick but it is contested that the ball was deflected into the net by Pepe's feet. Looked this way, the Portuguese footballer is still tied with Raul and will have to score once more before the celebration can really begin.
What lessons can the achievement teach the SMSF owners?
We will agree that it is not only genius that can take us towards milestones. Perseverance, discipline and real hard work is required, too. I think it is the same in all the fields of life. Just as Ronaldo could not have scored his 324th goal without scoring the first 323 of them, you cannot suddenly wake up one day to a big retirement nest-egg without working towards it.
Careful accumulation is required to reach a substantial reserve. Your investment strategy should be comparable to Ronaldo's genius but what will also count, and probably as much or more, is how perseveringly you keep accumulating, letting go all the temptations that come in the way.
Planning well in advance
Also important is that as SMSF owners you should plan your retirement goals well in advance. Opportunities like 'Real Madrid' will surely come your way but only if you are focussed and ready to perspire for your ambition.
Everyone deserves a happy retirement but it does not make a run for us, we have to reach out for it.