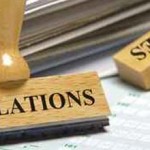 James Mitchell and Miranda Brownlee write an article for the website Mortgage Business wherein they say that the stiffer APRA lending guidelines have resulted in a decrease in SMSF lenders, thus hitting the trustees hard. Banks are still willing to lend but lending limits imposed by the prudential regulator has changed the scene.

APRA tightens lending norms
Now that there is lesser number of lenders, we are going to face an environment of increased turnaround times. Also, reduced competition may mean higher charges. It won't all begin to have an effect soon but slow and subtle changes in lending dynamics cannot be ruled out.
Non-APRA governed institutions
Those lenders who are not governed by the APRA are looking to benefit from the turn of events by raising their rates. After all, SMSF trustees looking for alternatives are not likely to mind the extra cost of borrowing.
Limited Recourse Borrowing Arrangements
Now that there is going to be a ban on personal guarantees that were associated with Limited Recourse Borrowing Arrangements in the past, we may be looking at a number of SMSF lenders making exits.No one is too pleased with the situation where reclaiming assets become difficult in the event of an SMSF default.
You can read original article here.
A lot many things have to be looked into before taking one or another side of this debate. Though the government looked past the Financial System Inquiry (FSI) recommendations and did not implement them, everyone agreed that certain points mentioned by the FSI were quite relevant.
Why did APRA take the step?
The number of property borrowing transactions made through SMSF was getting higher by the day. Also, there was a grave risk of fly-by-night operators hitting the financial advice market and thus hurting the SMSF trustees with advice which only solved their vested interests.
Mortgage defaults could become tough to handle
The government also felt that they could well be giving rise to a situation close to the sub-prime mortgage crisis where thousands of borrowers did not have enough means to pay back the loan. Yet, all said, there is a feeling in many pockets of the SMSF sector that the APRA, in tightening the lending norms, may just have tried to heal what was not a wound in the first place.