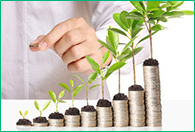 At a point in time when inflation is beyond the expected standards and interest rates are constantly dipping, it may not be wise to place a large fraction of SMSF money in cash. This, however, is exactly as the things are, writes Kate Cowling, in an article for the website Super Review.
Extremely concentrated SMSF portfolios may suffer due to lack of diversification and cash funds are only expected to trip owing to the combined effects of tax and inflation.
ETF seems to be the perfect risk-averse idea; given its ability to diversify SMSF investments.
You can read the original article here.
What is your take on Exchange Traded Funds (ETF)?