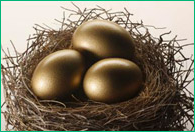 Just as there are many who would vouch for the way SMSFs have added value to their lives (and portfolios), there are definitely a few who feel that SMSF investment "was a wrong decision and that it did not suit my interests at all". So where do investors belonging to the latter fraternity go?

Winding up a SMSF
Let us say there was a time when SMSFs really suited you and you got yourself one. Nothing wrong with that! Now, if the selfsame investment is no more in line with your present circumstances, how do you go about undoing what's done? Recognising a need for such a service, the industry fund CareSuper has been planning to offer to offer just that.
Industry fund CareSuper
CareSuper is allowing SMSF trustees to wind up their investments. Let us dig deeper into the mindset of a few trustees who feel they are arrested in something they just don't feel like owning or owning up to.
A Typical Case
A common example is when a couple used to have their super in a self-managed super fund. When the person actively managing the fund dies, the partner who is left behind is often at a loss on how to manage investments and fund structure. This can get pretty awkward- the remaining partner is left in control of a fund he or she may not want to do anything with. They may not understand Super and cannot manage the fund's day-to-day activities.
In such a scenario, a service that helps people wind up their "inherited" self managed super fund is a good idea.