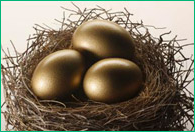 Young people are not saving enough to retire free of stress. What's worse is that they cannot figure this fact out. Retirees have a forlorn look when they talk to the Gen Y, simply because they know their voice is reaching the younger guys out there, but their thoughts are not.

Baby boomers are woefully short on retirement savings
The baby boomers have a brilliant example to offer to the young generation — their own example. Only 20% of the baby boomers have enough money in the retirement nest egg to live a decent life. And now for another appalling statistics, 50% of the baby boomers will have to keep toiling into their seventies because they just don't have enough savings to retire.
Younger generation is not ready to think they will be old one day
Much of the younger generation's indifference comes from sheer ignorance. For instance, they keep seeing a column dedicated to their Super each month on their pay slip, but that's all they know or want to know. They don't delve deeper to find out the long-term implications of the superannuation contributions.
With such little knowledge of Super, how do they expect to understand about the concessional contributions caps and tax savings, among other important variables of the Super game?
Retiring men and women cannot live even decently on their savings
There should be a pan-nation objective to knock into the heads of the younger generation that retirement savings must be started early enough.
Let me present to you some truth about our Superannuation shortfall. Statistics available to us suggest that men and women (of 65 years of age) require $330,000 and $360,000 in their Super to fetch a decent living for themselves once they are retired.
By decent, I mean as less as $1,915 a month. If they plan to be a little more extravagant, they will need $590,000 and $660,000 in their nest egg. This will give them something like $3,415 to bite at each month.
Now for the sorry story — men have only about $85,000 and women an even meagre $58,000 in their Super. The amount is four to 7 times less than what's required to eke out an averagely decent living.
How do you diversify your investment in order to save for your retirement?