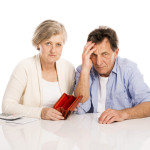 Michael Roddan has written an article for the Australian Business Review wherein he talks about a Credit Suisse research that puts a loss of $40bn on the shoulders of SMSF in the 6 months leading to September 30. In what might be the biggest loss for the SMSFs yet since 2011, they have lost $19 billion in the three months leading to June 30 and a further $21 billion in the next 3 months.

SMSFs hold $60 billion in assets
This time in 2014, SMSFs held 30% of total Superannuation assets. Now they are down to 29%. Presently, they hold roughly $600 billion in assets. Much of the loss can be put down to SMSF investors buying local shares rather than the global ones which gave back pretty high returns. The industry funds, quite contrarily, hold a much greater proportion of global equities and this has been one of the reasons for their good show and the SMSFs poor performance in recent times.
How much does it hurt an average SMSF investor?
If you ask what this means for an individual SMSF investor, the answer is some $38,000 over the course of last 6 months (on an average). The current yield on the local stocks is 7.5% which is thrice the deposit rate. Naturally, the deal seems exciting for those investors who are not willing to look too much into what the global equities hold.
You can read the original article here.
SMSF investors still carry a domestic bias
The domestic bias may hurt the SMSF investors in Australia. How one wishes it could have been about the yield. Sadly, growth is far important than yield and the Aussie shares lose out in the race of dividend per share. SMSF portfolios have shown aversion towards diversifying through overseas assets and it will be nice to venture into what it might cost them. I cannot possibly delve into it.