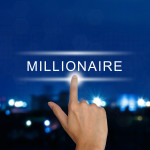 I came across an article on The Motley Fool where writer Christopher Georges discusses the value of diversification and allocating at least 5-15% of the portfolio in small-caps that can outperform the market average.

#1. Capitol Health Ltd.
He points out Capitol Health Ltd as his first pick and writes that the diagnostic imaging industry is likely to take a straight leap from here. While the "shares have pulled back recently", they should bring good results because of their adherence to the fundamentals.
#2. Retail Food Group Limited
Georges also picks Retail Food Group Limited and asserts that the shares of the company can now be picked for half its previous value. There is a growing concern that the meltdown in economy may cause a decline in value of coffee and fast food. Too early to say if this may happen, says Georges but the company's forecast of 20% growth looks good.
#3. Collins Foods Ltd.
Collins Foods Ltd is another small-cap chosen by Georges. He feels that the company operating 171 KFC outlets across Australia knows its path ahead. The company has been working hard towards building its brand further and streamlining its customer-oriented approach even more.
You can read the original article here.
I am not in a position to comment on these picks. However, I know that SMSF trustees have queries of various kinds in their heads. If there is something related to regulations or self-managed compliance which is bothering you, don't hesitate in joining us on SMSF Advice Hub. I will be really glad to help.